Review | Yadah x Sonyunara All Day Cushion
Wednesday, December 07, 2016
Hi everyone!
How have you all been?
It's, again, been a while since my last blog post. I guess you can say a lot of stuff has happened while I was gone. I'm very sorry about that, but I will be able to make it up to you guys very soon with lots of exciting new blog posts and even videos coming up very soon.
Yadah is a new Korean cosmetic brand which focuses on protecting pure and clean skin.
Yadah's brand story:
"Yadah protects your skin by producing hypoallergenic and low-chemical plant-derived skin care and makeup products... We are dedicated to making the best quality products that are mild but highly effective to make your skin beautiful and healthy."
Yadah collaborated with Sonyunara which is a popular Korean online fashion shop among middle and high school girls.
The All Day Cushion claims to have:
All day cover - Perfect coverage, long-lasting
All day fine - Lightly covers the skin for a porcelain skin finish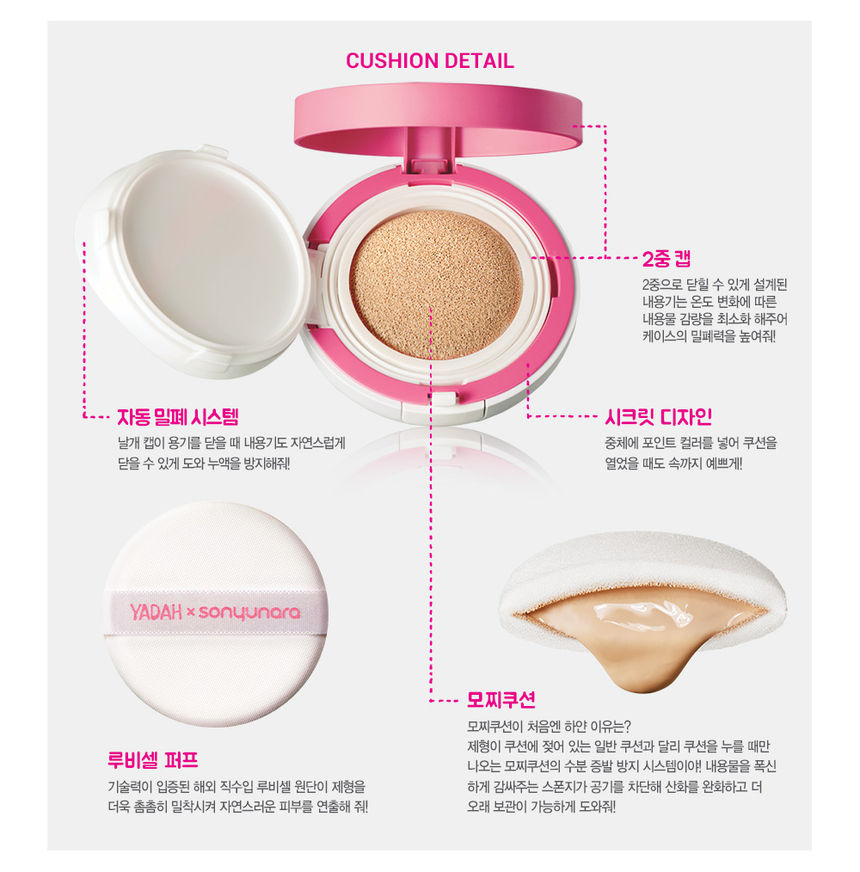 It's actually one of those cushions that have all the foundation in the center so you have to use the cushion to get the product out. I particularly didn't really like this sort of cushion just because you don't really get a good control over how much product you want and you can accidentally get too much product on your puff which can result in a pretty cakey finish, so just be very careful when first using this cushion because the cushion is sort of sensitive.
Too much product! ><
The formula of this cushion is not too heavy but it's not super light which is okay because it does have really good coverage, more of a medium coverage, and cushions aren't really known for their coverage. The finish is more of a satin with a subtle glow which I do prefer over a crazy dewy finish this winter.
Although it claims to have All Day Moisture, I didn't get that feel from this cushion.
It did accentuate the dry patches I have on my skin and throughout the day it did start to become a bit more obvious. I have tried it another day with a thicker cream and my skin wasn't as dry as before and it did look better so I would recommend moisturizing very well before applying this if you have dry skin.
From afar, this cushion makes my skin look almost perfect and radiant but when you do look up close, it can look pretty obvious on the skin.
I did use this when I went to San Diego during the weekend a month ago and it was still pretty warm there. This cushion did wear pretty well and didn't fade throughout the day. I did notice since I didn't moisturize as well as I usually do that it did look more apparent as the day went by but the next day I did wear my usual amount of moisturizer and it wore a lot better throughout the day.
Likes:
- Medium coverage
- Satin finish with a subtle glow, very natural looking
- Makes my skin look flawless
- If moisturized well beforehand, the finish looks great all day
- Covers up pores
- Lavender scent (some may not like!)
- Does not oxidize
Not-so-likes:
- Deposits a bit too much product on puff if you're not too careful
- Only comes in one shade (No. 21 Light Beige)
- Makes my dry patches a bit more obvious. I recommend exfoliating beforehand
- If you don't moisturize well beforehand, it can look dryer throughout the day
All in all, I did enjoy this cushion very well. It's pretty different from the other cushions I have tried as this has a higher coverage than the rest. I wouldn't recommend this for dry skins unless you exfoliate and moisturize beforehand. I believe this cushion will be well-liked by normal to even oily skins.
I hope you guys enjoyed this review! Thank you to
BBcosmetic
for letting me try this product out for you guys. Stay tuned for more reviews featuring Yadah!
Have a great rest of the week!
xx,
Lily
Disclaimer: This product was sent to me by BBcosmetic for review purposes. All opinions are my own. Keeping it real.