Review | COSRX BHA Blackhead Power Liquid
Wednesday, July 20, 2016
Hi everyone!
How have you all been?
Excuse my brief break from posts/videos. It's been a crazy and fun summer that I kinda pushed back doing posts and videos since I've been working a lot and I just wanted to use my free time hanging out with friends but now I should have a bit more time writing. Back to our regularly scheduled program!
Today's review is going to be on the popular
COSRX BHA Blackhead Power Liquid
which was kindly provided by
BBcosmetic.com
, a great new online shop that sells lots of Korean beauty products with free-shipping worldwide! (I have a coupon code that gives 10% off your order so be sure to use that for a deal! No affiliation whatsoever.
C62966RT6CH)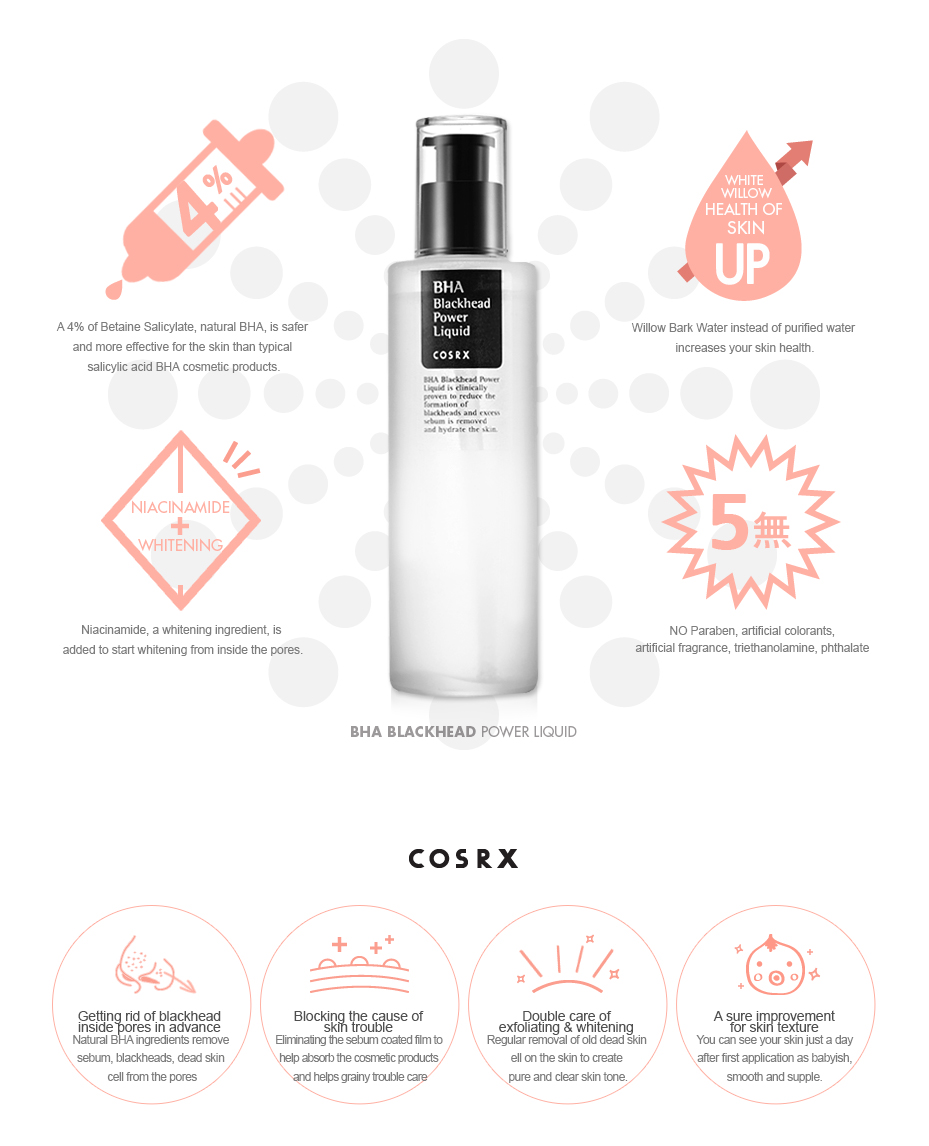 About the product:
BHA Blackhead Power Liquid is clinically proven to reduce the formation of blackheads and excess sebum and hydrate the skin. With Betaine Salicylate, natural BHA ingredients, it strengthen both skin-safety and effect. Instead of using purified water, it's made with White Willow bark water to strengthen both skin-safety and effect. Free of paraben, artificial colorant, artificial fragrance, triethanolamine and phthalein.
I'm going to be a total n00b talking about this because I still have not fully understood all the BHA stuff but I'll try my best to explain:
The BHA in this product is actually Betaine Salicylate which is much gentler than Salicylic Acid, which is your most common BHA in a lot of products. I've tried Salicylic Acid before which worked well with my skin and didn't dry it out too much so since Betaine Salicylate is much gentler, I was hoping it would work better for my skin.
This is a chemical exfoliant which, unlike manual exfoliants like scrubs, exfoliate beneath the surface of the skin to help get rid of more dead skin cells and regenerate cells better.
Following the instructions for this product is extremely important. The way I use it is I use it after cleansing and toning my skin. I use my fingers to spread it thinly on my face, focusing a bit more on my nose since that is where blackheads are most apparent on my skin, avoiding the eye area. It's important to let it set on your skin for 15-20 minutes. They say that 30 minutes is the best but I honestly have no time for that since I just want to sleep right away at night. After that, I use my essence and emulsion and am finished with my skincare routine. I just use it at night but you can use this for your day skincare routine as well. Just make sure to use sunscreen because the ingredients of this product will actually make your skin more sensitive.
Despite all the great praise and ingredients of this product, I honestly feel like this product has done almost nothing to help my blackheads. I even feel as though this actually made it worse in some parts.
I do see some improvement in my skin like around the corners of my nose but the rest of my nose's blackheads have become more apparent. Not even pictured are the blackheads on my chin that have not improved.
Likes:
- Gentler than salicylic acid
- Small ingredient list, paraben-free and free from other artificial ingredients
- Did not dry out my skin
- Improved the sebum around ONE corner of my nose
- Affordable ($15.98 on BBcosmetic)
Not-so-likes:
- Did not improve the rest of my skin/Actually made my blackheads worse
I've had this product for a while and gave it so many chances. At first I thought I was using this wrong and that was the reason why my skin was getting worse, but after two months of giving this a shot, I feel bad saying that I give this the seal of disapproval.
It sucks because I know for many people, this worked really well to clear their skin so I'm really sad that this did not work well for me. I want to give it the benefit of the doubt that I've just been using this product wrong again and maybe I should actually wait 30 minutes for it to set into my skin, so I'm not sure if I should continue using this product and give a follow-up update if my skin improves or not. Should I?
I hope you guys have a fantastic week. There will be more skincare reviews coming up soon as well as makeup reviews. Just for now, I've been testing a lot of skincare (lots that have disappointed me as my skin isn't in its best condition now from the products I've been trying out) so those will come first. I'll talk to you guys soon!
xx,
Lily
Disclaimer: This product was provided by BBcosmetic.com for review purposes only. All opinions are my own (clearly lol). Keep it real.